Halloween is not only for kids or adults but also for our beloved pets! It's one of the most exciting parts of this holiday, looking for some cool and fascinating pet Halloween costumes. When it comes to these hairy friends, there is literally no limit since they might hardly show their opinions and attitudes (well actually they do sometimes if they REALLY hate it).
Anyways, make sure that your pet buddy is comfortable wearing those. Otherwise it would be tough for them to move around and show their beautiful, well-made costumes. Just do the best for your pets!
#1. The Owner Is Definitely A Fan Of The Wizard Of Oz. They Pulled Off Well Actually!
Source: Pinterest
#2. Taco Anyone? Just Kidding DO NOT Make A Taco From Your Chihuahua. 
Source: Pinterest
#3. It's Great For The Environment, A Walking Little Bush. 
Source: Pinterest
#4. Okay Now It's Getting Scary. One Of The Very Well-Made Pet Halloween Costumes For Dogs.
Source: Pinterest
#5. ISN'T IT WAY TOO CUTE AWEEEEEE
Source: Pinterest
#6. Banana-na-na-na-na, Potato-to-to-to. Where Is Gru? 
Source: Pinterest
#7. A Mewnosaur From The Old Ages
Source: Pinterest
#8. You Can Tell How Much He Likes It By The Way He Looks At You. 
Source: Reddit
#9. Matching Pet And Owner Halloween Costumes Through The Years, How Cute Is That!
Source: Reddit
#10. An Idea For Halloween Costumes For Pet Rats, Let's Call It A Ratman! 
Source: Pinterest
#11. I Heard That Everyone Was Into Cheerleader Chicks? 
Source: Pinterest
#12. Just A Sausage Dog Being A Hot Dog! 
Source: Dog Time
#13. Bambi Is That You?
Source: HSSAZ
#14. Pretty Simple Yet Works Like A Charm! 
Source: BP
#15. Applause For His Owner's Creativity! 
Source: Reddit
#16. I CAME IN LIKE A WRECKING BALL, I NEVER HIT SO HARD IN LOVE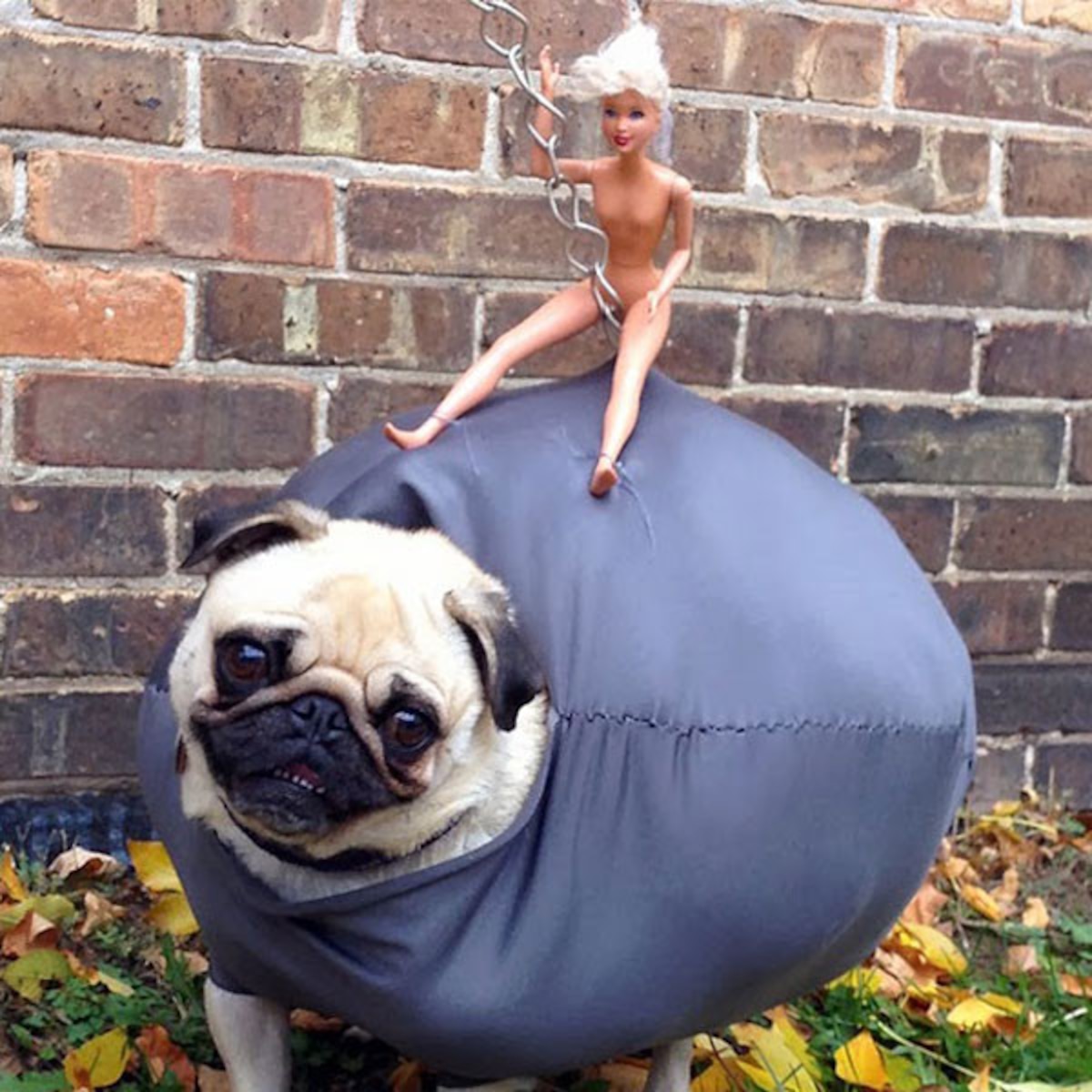 Source: EO
Halloween is coming in just a couple of weeks. We hope these pet Halloween costumes will give you ideas for this occasion. Stay tuned on http://aubtu.biz for more updates on celebrities, funny memes and stories. Make sure to bookmark our Animals category for further exciting posts!